This is part 2 in a 12 part Series on D.I.S.C.I.P.L.E.S.H.I.P. – Twelve Tips to help you become a more effective discipler of children.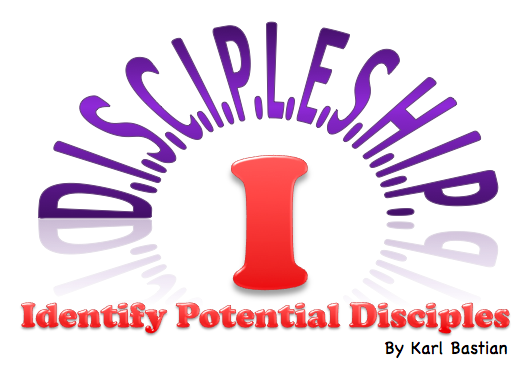 I = Identify Potential Disciples

"Come, follow me," Jesus said, "and I will make you fishers of men."
Matthew 4:19
Have you ever invited someone to be discipled? If you truly want to be a discipler, you must understand that discipleship is not something that happens by accident. Your disciples are not hidden throughout the kids you minister to, they are children you can name. Yes, a true discipler can name their disciples. They have intentionally chosen to disciple someone as a follower of Christ.
The way I discovered this is almost embarrassing.
To explain I have to back up a bit – all the way to high school. (OK, maybe more than just a bit!) But on a Sunday evening in high school I heard a missionary preach who, unbeknownst  to me at the time, would one day be my father-in-law! But during his slide show I saw a picture of his daughter and was inspired to write her an encouraging letter. She was encouraged, and encouraged me by her letter back. Soon we were "pen pals" until I became so encouraged I desired to come meet her in person!
Upon graduation from high school, and after writing back and forth with this "MK" for two years I asked her father, via mail, if I could come to the Philippines during the summer for a mission trip. Perhaps he saw through my ulterior motive, but at any rate, he asked me to get a year of Bible college first. I figured this was better than working for him for seven years and getting her sister. So I agreed.
A year later, never wavering in my quest to come to the Philippines and meet my pen-pal, I wrote him again and since I met his requirement, he allowed me to come.
So what does this romantic love story have to do with Discipleship? I thought you'd never ask!
I'd been there only a few days when I had my first meeting with my supervising pastor. (My pen-pals dad, who, by the way, is over six feet tall) Perhaps he was just challenging me, or testing me, or starting my eight weeks tough as "missionary training" but he asked me:
"So, you've been here nearly a week, how many young men are you discipling?"
I was stunned and confused. But, of course, I couldn't admit it, not to the man whose daughter I had a growing affection for, so I stuttered and answered, "Well, none yet, but I hope to soon." He answered, "Good, by next week I'd like you to be discipling at least three young men." I agreed. Except I had no idea what he was talking about!
Here I was, a pastor's son, and a student at one of the leading Bible colleges in the world, but when asked if I was discipling I was at a loss! So I ran to my "girlfriend" (though not officially so yet) and said, "Your dad wants me to be discipling three boys by next week! What do I do?" She was no help. She simply answered, "Well, just do it." Again, I couldn't admit that I had no idea what they were talking about! How did I tell this girl I was hoping to woo that I didn't knowing what "discipleship" meant?
I was stuck. Discipleship was a word I heard and used a lot, but when confronted with being asked to actually do it I was stumped.
Well, while perhaps not the most noble of motivations, my desire to impress both a girl and her dad gave me the courage to walk up to a pair of young men after a mid-week service and blurt out the words, "Would you like to be discipled?" I was scared they would ask me what I meant! But instead, they simply said "Yes!" Then they led me to the bookstore at the back of the sanctuary and asked me to help them choose a study book to go through. (Another time I will write about the "How To Grow" book that church used that Awesome Adventure was actualy developed from as a kids version.) Next they asked me when would be a good time to meet. (They were unknowingly teaching me how to be a discipler!)
Soon we were meeting regularly, and once I was with them and reading the Bible and discussing, I was fine! My years of experience as a Christian and my knowledge as Bible student made the job easy – all I was missing was the intentionality. I had all the experience and knowledge I needed to be a discipler, but I had never actually put it to work in another individuals life!
There are many Christians who are ready to be disciplers who never take that step to become one by simply asking someone if they would like to be discipled.
How do you choose kids to disciple? I like to say, "look to the edges of spiritual development."
On one end are kids who you aren't sure are genuinely followers of Christ yet, or at best are "saved" but not really that active or enthusiastic about their faith. By discipling them YOU could make the difference on whether they go through life as merely a Chrisian or a devoted follower of Christ!
On the other end are the kids who seem to have everything going for them spiritually. They come from strong Christian homes and may even have parents in the ministry. (Yes! Disciple PK's!!) They actually are key disciples because they need what they are hearing in the home to be confirmed and validated outside the home. Just because dad is the pastor doesn't mean they will be on-fire for God. In fact, as you may know, often the opposite is true because it is either expected of them, or because they see their dad's human and failing side, they can have doubts. You can be an intramental part of firming up and strengthening an already strong foundation.
But also look for kids in tough situations. Kids in a single-parent home. Kids who are ill, or have some other family challenges. I've discipled kids whose parents were going through a divorce, or who had a parent dying of cancer. Or who is getting in trouble at school. Discipling allows you to meet with them with another reason – but the issues they are facing will come up, but in a safer more comfortable way than saying, "lets go out and talk about your mom's cancer" or "lets talk about your parents divorce."
Discipleship allows you to focus on the basics of the Christian life and allows the child to bring up the other issues in their life as they feel comfortable and as they relate to the topics of prayer, trust, obedience, etc.
SO NOW WHAT?
Prayerfully try to identify a child you could disciple. Is there a child you know that is going through a hard time? That shows great potential for God? Who seems to lack serious interest in their faith? Who you would like to have an impact on?
I promise you – if you pray and ask God to show you a child He would like you to disciple, that is a prayer request HE WILL ANSWER! Then you have to take that next step – asking the parents and then the child, if you can disciple them.
You will feel weird and awkward and silly, but please know – that is spiritual warfare! No parent has ever told me "no" and no chid has ever not enjoyed getting together and talking about the Bible, God and their faith.
So what are you waiting for? Who are YOU going to disciple?
Let me warn you – discipling children will become the most rewarding part of your ministry and will have the longest lasting results. It worked for Jesus, it will work for you too!
---
Karl Bastian is the founder of Kidology.org the Internet's leading destination for those who minister to children.




One Response to "D.I.S.C.I.P.L.E.S.H.I.P. – I = Identify Potential Disciples"
Mark Steiner Says:
August 29th, 2008 at 7:38 am

Hey Karl,

Great story! I have heard some of it before, but the complete narrative is very compelling and a super starting point–because so many people can really relate to it. Motivates me to post my own testimony… soon!

Mark
Leave a Reply