This is part 10 in a 12 part Series on D.I.S.C.I.P.L.E.S.H.I.P. – Twelve Tips to help you become a more effective discipler of children.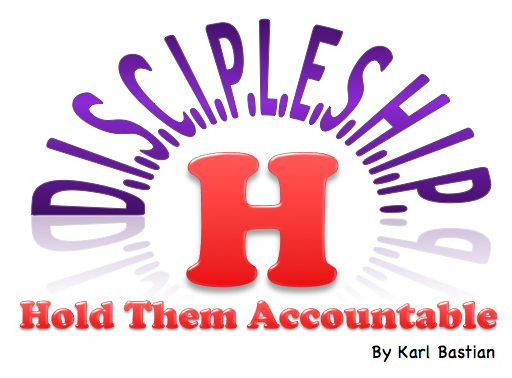 "It's not what you expect, it's what you inspect that matters."
That may be a line from business, but it's true when it comes to discipleship too. Not only is holding our disciples accountable important, they truly desire it. We think that those we disciple don't want to be "checked up" on – but the reality is, if we don't, what that really says is, "I don't really care how you are doing spiritually."
When you meet with your disciples, be sure to check up on how they are doing. Ask how their walk with God is doing. How are their relationships with their parents, siblings, teachers, friends. (Those often mirror their walk with God.) How are their spiritual disciplines going. If they are struggling with something, feel free to set aside the lesson and deal with what they are struggling with. A lesson is never more important than a real struggle going on in their heart or life – that is real discipleship!
Remember, you are not trying to create a smart Christian – you are trying to make a disciple, someone like Jesus!
But accountability, is not only about while you are in a discipling relationship – it is about long term, over the course of a life time! Long after you have finished a book or a biblical course, you want to see them continue to walk with God, and that takes long term accountability. But how do you find out how children are doing spiritually long term without feeling like you are being nosey or like a pesky adult?
YOU ASK FOR PERMISSION AHEAD OF TIME.
When you are meeting for discipleship and are talking about prayer or Quiet Times, and having an open and honest conversation about the challenges of being regular in prayer of time with God – that is when you ask, "Would you like me to help you be more regular in your prayer life or quiet time?" I have never gotten a 'no' for an answer. But take it a step farther.
Don't assume that your discipling relationship is just for the hear and now. You are beginning a relationship and God may use years from now. What you invest today may not truly be cashed in for years to come. In fact, you need to build a door way into the heart of the children you disciple that you can enter later. A door that they don't even  realize may be needed. They will let you build it, and later, they will let you walk through it, for they will remember when they built it with you.
"What about a year from now?"

"What about when you are a teenager and you don't seem interested in spiritual things, would it be OK if I asked you about your walk with God?"

"What if you get irritated with me?"

"What if you get mad at me?"

"What if you tell me to leave you alone and bug off?"

"What if I see you straying from God and slipping into a sinful life style? What would you like me to do then?"

"How persistent would you like me to be?"

"How often would you like me to check in on you?

"What if I dropped in on you twenty years from now and discovered your life was radically different, would you give me an hour to talk about your spirtual life and what has happened? Would you give me some time to listen and pray with me and open God's Word?"

"Will you give me your word on that?"
If you get permission while they are young, you'll be able to ask tough questions later and they will let you. Even with their head down, with no eye contact, they will welcome your questions. I've even had teens come to me and say, "Pastor Karl, you need to ask me some of those questions you said you'd ask me some day." They want to be asked, and they want to be known, even when they fail. Because ultimately, they WANT TO SUCCEED! So hold the kids you love accountable!
One Response to "D.I.S.C.I.P.L.E.S.H.I.P. – H = Hold Accountable"
mike k Says:
January 20th, 2010 at 2:36 pm

man, this stuff is challenging! i never thought of building a bridge to the future like this! keep it coming brother!!
Leave a Reply