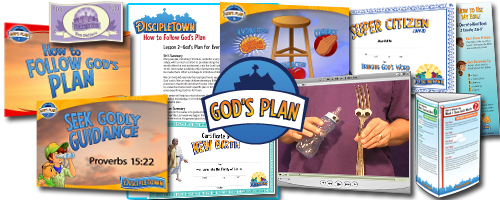 The latest DiscipleTown unit, How to Follow God's Plan is now available on both DiscipleLand.com and Kidology.org.
I really enjoyed writing this series and especially enjoy watching how the creative folks at DiscipleLand take what I submit to them and add their creative touches to make it look spectacular so that YOU can look sharp when you are teaching! I am so blessed to be able to have their talented design team taking my writing and both editing it and then producing it so teachers all over the globe can have top-notch children's church curriculum at such an affordable price.
Here is the official description. I do hope you will check it out so you can disciple your students in how to Follow God's Plan for their lives!
Though the world offers fun and excitement, only the Lord's plan promises deep, rich fulfillment (John 10:10). God makes available a life of adventure when believers pursue the purposes for which He made them. Help kids elevate their perspective to see that life can be thrilling when they follow God's plan. They'll develop a a broader view of God's purpose in the world and His plan for every Christian. Kids will learn how to understand what God's specific plan is for them and how to form an action plan to experience everything God has for them.
AVAILABLE on either of these websites: DiscipleLand.com and Kidology.org.
2 Responses to "Teaching Kids About God's Will"
Mike S Says:
February 7th, 2010 at 8:40 pm

Our kids LOVE Disciple Town! Keep it coming! So creative and yet also so biblically strong and on target too. There is a lot of fluff out there floating around, nice to have some real meat to feed our kids spiritually!

Shelly J Says:
February 7th, 2010 at 11:28 pm

How do you keep rolling such good stuff out? Our kids have never enjoyed kids church as much as they do now. They are bringing their friends and soaking up everything and wanting more and more. Thank you DiscipleLand for making us look so good!!
Leave a Reply