"If you love me, you will keep my commandments. And I will ask the Father, and he will give you another Helper, to be with you forever, even the Spirit of truth, whom the world cannot receive, because it neither sees him nor knows him. You know him, for he dwells with you and will be in you." (John 14:15-17 ESV)
Discipleship Truth: Jesus made the incredible promise that His followers would do even greater works than He had done (John 14:12-17). Clearly, believers can accomplish those works only through the Holy Spirit's enabling power.
The Holy Spirit indwells every Christian; He resides inside all who trust Jesus as Savior (Romans 8:11). But God wants to completely fill (direct and empower) all believers all the time! The Lord infuses His children with the Spirit's superhuman power (Acts 1:8; Ephesians 5:18-19). The key to living the Christian life is being filled with the Holy Spirit each moment of every day!
True Story: The van carrying twelve high school students rumbled down the highway. Our group had enjoyed a glorious week of summer camp at Catalina Island, CA. While sitting beside Katie, our leader, I talked with Cassie and her friend. Both girls were funny and open, but still uncertain about this "church thing." Camp had been fun and challenging for them—though they were unaccustomed to curfew and restrictions. Nonetheless, the young women enjoyed the ocean recreation, the teaching, and the worship.
As we recounted highlights of the week, I asked Cassie about her life. As she shared her story, I felt prompted to ask about her view of God. Cassie's response showed confusion about God's character: Was He near or distant? Who is Jesus? Church seems interesting, but sometimes Christians are hurtful—what is that about?
As Cassie's comments and questions tumbled forth I felt unusually clear-headed and energized. My heart swelled with an uncontainable excitement to share about the God I knew and loved. I felt sure and confident—which was not my normal, 16-year-old experience! Katie and I responded to each of Cassie's questions. We discussed the Gospel, original sin, hypocrisy in the Church, God's nearness, and forgiveness. The girls shared stories about their family, trouble at school, and dreams for their future.
Just as I finished telling my story of coming to know God personally, the van arrived in the church parking lot. Cassie confided, "I could follow a God who is like that…" She smiled and thanked both of us as she gathered her things.
After everyone had left, I pulled Katie aside. With wide eyes I asked, "What was that? Was that God helping me? I've never felt like that before!" She grinned warmly and shared stories when God had also prompted her in what to say or what to do.
I told Katie, "I've never felt so alive and clearheaded in a conversation about God. Usually, I'm full of doubt about what to say, but today I was so confident!" After that exchange, I drove home brimming with expectancy. With the Holy Spirit prompting me and empowering me, anything was possible!
Action Step: To be filled with God's Spirit, read these verses and pray through each action step together.
Thirst—Strongly desire to be filled with the Holy Spirit (John 7:37-39)
Repent—Confess your sins and turn to God (1 John 1:9)
Trust—In faith, ask God to fill you with the Holy Spirit (Luke 11:13)
Obey—Submit to the lordship of God's Spirit (Galatians 5:16)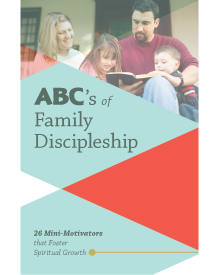 Portions of this article taken from the ABCs of Family Discipleship booklet, available here.