"Trust in the Lord and do good; dwell in the land and cultivate faithfulness.
Delight yourself in the Lord; and He will give you the desires of your heart.
Commit your way to the Lord, trust also in Him, and He will do it." (Psalm 37:3-5)
Discipleship Truth: God is the supreme centerpiece of the universe. He eclipses everything else. Without the Lord's vigilant attention, all life would end—matter wouldn't be matter anymore. Incredibly, that same all-powerful Lord delights in the activities of His individual children (Psalm 37:23). In fact, God blesses those who delight in Him (Psalm 112:1). The Lord deserves to be the primary focus of each person's attention and affection (Psalm 37:4).
Big and Small: Each night at our Lake Tahoe campsite, stargazing became one of my favorite pastimes. Peering at the limitless number of stars that stretched above our family tent made me feel incredibly small. The lights seemed to wink and dance upon the ink-black heavens. My 6-year-old curiosity was boundless. Wondering why the Lord created stars, I asked Daddy, "Do you think God made stars and planets and galaxies, just because He's big?" He responded, "Our God is so creative—the universe gives us a glimpse of His might!" My Dad then expanded my mind with information about supernovas, asteroids, and vast galaxies. Then our mini astronomy-theology lesson turned silent as we quietly watched the twinkling canopy.
A decade later, half a world away, I stood under those same stars. After daily skits, day camps, and food service for the local poor, our high school mission's trip had drawn to a successful conclusion. Observing the widespread poverty had shocked my young mind. Each evening we gathered around the campfire, sang songs, and reconnected. Our leaders invited discussion about life purpose, poverty, missions, and God.
One night after our worship session, I wandered away from the group. The stars had caught my interest, but something else had struck me. In the midst of seeing how BIG God was, that week I had also observed how PERSONAL He was. Though my day had been difficult, I sensed an unusual, yet pervasive peace. Each new situation, language struggle, and poverty experience had challenged me. Yet God's nearness had made the day a good one. As I stared at the stars, I felt a deep connection with the Lord. He was big, but He was also so very close. He cared about the impoverished people finding food fragments from the local dump; and He cared about me—a lanky U.S. teen—who simply sought to serve Him.
Action Step: Finding "delight in the Lord" permanently alters both our internal heart habits and our external actions. As we find joy, gladness, and pleasure in our relationship with the supreme Lord, He satisfies our souls. We then delight in Him further by closely following His commandments—choosing to do things His way.
"You will make known to me the path of life;
In Your presence is fullness of joy;
In Your right hand there are pleasures forever."(Psalm 16:11)
Take pleasure in the fact that God delights to be present in our lives. Our personal connection with the Lord through daily reading, prayer, and worship brings delight to our souls—and to Him!
"When my anxious thoughts multiply within me,
Your consolations delight my soul."(Psalm 94:19)
Through the daily ups and downs, our vital connection with the Lord helps us navigate the murky waters and stormy seas. His divine presence, not our perfect circumstances, brings joy and delight!
Another way to delight in the Lord is to faithfully fulfill your personal roles and responsibilities. Family roles may include: parent/child, son/daughter, brother/sister, grandparent/grandchild. For each of those roles, ask, "What does it mean to delight God as a _________?"
Next, consider other roles such as: friend, worker, neighbor, student, citizen, church member, and worshipper. List all your roles on a sheet of paper. Beside each one, write a specific "action item" that will delight God. Determine to walk uprightly and live for God's glory—no matter what!
"Praise the Lord!
How blessed is the man who fears the Lord,
Who greatly delights in His commandments."(Psalm 112:1)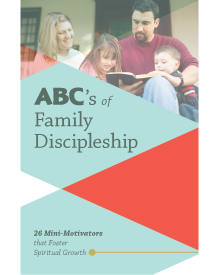 Portions of this article taken from the ABCs of Family Discipleship booklet, available here.