Discipleship Truth: Saints from previous centuries left a clear trail to follow. They walked by faith, not by sight. They stored up treasure in heaven (their true home). They fixed their eyes on Jesus, not allowing distractions, travails, or personal pleasures to alter their course. They remained faithful to the end. As a result, God is not ashamed to be called their "Father" (Hebrews 11:13-16).
In the fast-paced world where everything seems to be accelerating, children still respond to the timeless, inspiring stories of leaders, missionaries, and well-respected teachers who ran their races well for Christ. The thrilling adventures and testimonies of faithful believers offer refreshing insights that speak directly to kids facing today's challenges. Here's an example.
True Story: The year is 1930. Gladys Aylward gazes around at the tiny mountain town of Yangchen, China. She has traveled thousands of miles—alone—through war-torn lands. When Gladys was younger, she sensed God calling her to China. She had applied to be a missionary, but failed to pass the examinations. But Gladys didn't give up. She discovered an English woman in China who was looking for a missionary partner. Gladys could not afford the expensive trip by sea, but she saved some money and has now made the long journey from England by train, ship, bus, and even mule!
Gladys and her new partner set up an inn for weary travelers in Yangchen. As mule drivers seek shelter at the inn each night, Gladys entertains them with stories of Jesus. Before long, her missionary partner dies unexpectedly! But God has new plans for Gladys.
When China finally outlaws the painful, ages-old custom of foot-binding, the ruler (Mandarin) of Yangchen asks Gladys to become a "foot inspector." Now she has new opportunities to spread the Gospel directly into Chinese homes. And God keeps opening other doors for Gladys. The next year she stops a prison riot and helps improve the prison conditions, earning the name "Virtuous One" from Yangchen's citizens. When God begins bringing abandoned children to Gladys, she opens an orphanage. During World War II, she leads 100 orphans across 200 miles of mountainous country to safety. Gladys' dedication to Jesus continues to inspire all who hear her story.
Action Step: Encourage your child to embrace God's magnificent plan for all eternity. Explore the "hall of faith" (Hebrews 11) to meet godly men and women who illuminated dark corners of history. Overview God's plan for the ages and challenge your child to walk in the footsteps of Bible champions. Invite your son or daughter to select a person they desire to be most like. Have him or her find out what makes that faithful man or woman so special and why? Make it your aim to follow those who walk in Jesus' footsteps—and to teach your child the importance of being faithful.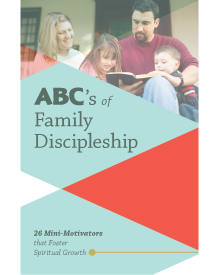 Portions of this article taken from the ABCs of Family Discipleship booklet, available here.