Discipleship Truth: God is Lord of the whole earth! Just as the loving Father breathes life into every human being, His heart longs for each person to receive forgiveness through Christ. To accomplish this, God gave His Church the sole responsibility to fulfill Jesus' urgent command, "Go into the world and make disciples of all nations" (Matthew 28:18-20). The Church exists to carry out that task. Showing children how to "disciple all nations" requires intention and resolve.
True Story: Along with 70 people from their church, Alyssa and Tyrone Keen traveled with their four children to Tijuana, Mexico. The trip was well planned for young families. Safety, food, and ministry opportunities were strategically coordinated to accommodate family needs. Still the week stretched the Keens! Emory refused to eat strange food. Chase and Levi slept poorly. Little Millie fussed and clung to her daddy like a koala to a tree.
At their first team outreach, dozens of locals gathered at the park to watch the gospel presentation. Actors dramatized creation, temptation, falling into sin, and Jesus' sacrifice on the cross. Then the local pastor explained the story and invited the crowd to respond.
Six-year-old Emory and her mother Alyssa served on the prayer team and were now eagerly looking for people to talk with. Emory noticed a woman and her son sitting nearby—looking unsettled and uncertain.
Alyssa Keen greeted the woman in broken Spanish.
"My name is Leticia!" she replied, "It is nice to meet you!"
Alyssa asked, "What did you think of the drama?"
"The drama is my story," Leticia responded. "I know about bad people." Dark characters in the play had tempted Adam with alcohol, power, and other sinful choices. Leticia spoke of her own battles with temptation, and her desire to be a better mother to her son, Marco.
Emory gave Leticia a booklet explaining the Gospel, and Alyssa offered to pray with her. Leticia nodded in agreement. She wanted to know the selfless, victorious Jesus depicted in the drama! Emory watched in amazement as Leticia expressed a simple prayer asking God to forgive her sins and be her Savior.
After inviting Leticia to church, both Alyssa and Emory hugged her and waved farewell. They noticed that Leticia looked more peaceful; her frown had shifted and her face softened. As Alyssa and Emory walked back to the base, Emory beamed with joy! "Mom, Leticia is now following Jesus, right?" Emory asked.
Alyssa nodded. "Yes, you were a part of someone choosing to follow God, Emory! And the Church here can help her keep growing with the Lord. Heaven is celebrating Leticia's choice right now!"
Emory and Alyssa rejoiced all the way back to the team base. For the Keen family, that moment made all the difficulties of traveling with four young children worth it!
Action Step: The Great Commission is not "someone else's" job; it's the privilege and duty of every Christian. Ask God to give your child a heart of love for people who don't yet know Him. Find ways to plant and reinforce an earnest desire within him or her to introduce others to the Lord. Seek opportunities to share the Gospel with others—to experience God's power first-hand. Actively support your church's international ministries through prayer, finances, and personal involvement.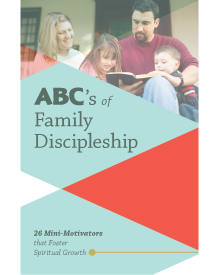 Portions of this article taken from the ABCs of Family Discipleship booklet, available here.