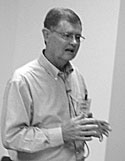 I've been training Sunday school teachers and children's pastors for more than twenty years. This has allowed me to speak to over 50,000 teachers in local churches and area conferences. It is always a blessing to see people awaken to the impact they can have on young lives. I am blessed to have the opportunity to encourage and challenge the people who hold the future of the church in their hands.
I'm frequently asked, "how do we get more lay people to catch the vision for children's ministry?" My response is normally "it begins at the top." If Sr. Pastors would make children's ministry the top priority in our churches we could rescue this generation of kids. I also tell children's pastors to invite their Sr Pastor to the training meetings, even if it is only to pray and encourage the teachers for a few minutes. On a few rare occasions I have had the Sr Pastor attend the entire training meeting.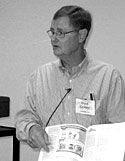 This past weekend I had a great time in Crossville, Tennessee where I did a Friday night parent seminar and five hours of teacher training on Saturday. We had several parents return for the Saturday meeting who were not Sunday school teachers. But the most encouraging part of the weekend for me was having the Sr Pastor of the host church attend all the sessions. I asked him why he was there and he said, "Because I need to learn from what you have to say." Wow! What an impact that had on the parents and teachers. He welcomed the teachers Saturday morning, listened closely, took a lot of notes, asked several good questions and asked me to send him more information on the topics we were discussing.
Following the weekend I emailed the Sr Pastor and encouraged him to consider making a positive comment about children's ministry each week from the pulpit. He said he had done this in the past and would make it a priority in the future. There is no question in my mind that Pastor Roland Smith understands the importance of children's ministry and his role in the future of the church.
Dick Crider
DiscipleLand Consultant & Trainer