Discipleship Truth: God grants every Christian an incredible honor—to remain in personal contact with Him every moment of every day! The Lord's unlimited resources and inexhaustible power are always at our disposal. Draw near, seeking God's face. Dialogue openly with Him. Pray with your whole heart. Be passionate. God delights to connect with His children; He eagerly awaits your every request (Psalm 34:17-19)!
True Story: Trey was extremely shy about saying prayers aloud. During family devotions when I would give him an opportunity to pray for his brother or sister, he clammed up. To Trey, prayer felt like one more thing that might go wrong, and he wrestled with verbalizing his thoughts. I knew that he needed a little personal coaching and encouragement.
"You seem nervous to pray," I pointed out. "Why are you uncomfortable about praying?"
"I don't know what to say!" Trey exclaimed.
"How would you talk to Jake, your best friend?" I asked. Trey always enjoyed a fluid dialogue with his neighborhood buddy. I was curious to see whether or not Trey could connect those free-flowing, boy-to-boy conversations with talking to the Creator and Sustainer of the universe.
Trey giggled. "We'd talk about silly stuff; we'd invent things and talk about games we like to play. I tell Jake when I'm frustrated with Millie." I smiled at the reference to his sister; long summertime hours of playing together sometimes ended with tears and tension.
"Talking with God can be like talking to a friend," I explained. "God wants to hear about your day. He also wants to hear about things that are going wrong, the mistakes you've made, and your prayers for friends or family. What would you talk about with God right now if you could?" Trey rattled off a list of things, both trivial and poignant. I urged Trey to try it—simply talk to God out loud in his room.
I snuck into the hall and heard him start, "God, I have an amazing idea!" As Trey prayed alone in his room, I listened for several moments. The conversation ranged from ideas for inventions, to his fight with Millie yesterday, to concern for a sick neighbor. It was a strong start!
Action Step: Each morning ask your child, "How can I pray for you today?" Each eve­ning pray together with him or her. Talk openly with God about what matters most. This H-E-A-R-T acrostic can guide your prayer time together:
H — Honor God with praise and respect.
E — Examine your life; confess any sins.
A — Ask God to supply your personal needs.
R — Request God's help for the needs of others.
T — Thank God for blessing you today!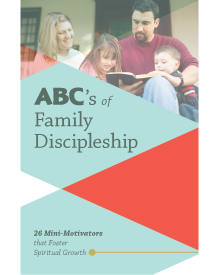 Portions of this article taken from the ABCs of Family Discipleship booklet, available here.